See where tops the UK Retirement Index
Every year, thousands of people take their first steps into retirement. Some keep working part-time and others jump into it head-on, but they all decide to live life a little more on their own terms. But given the choice, where would you live out those golden years?
To help these new and upcoming retirees, we've ranked the best UK cities for retirement based on several key factors:
Average pension fund size for people in the area
Pension shortfall they should expect
Cost of living
Average house price
Life expectancy
Best Hospital Index score
Crime Index score
And the result?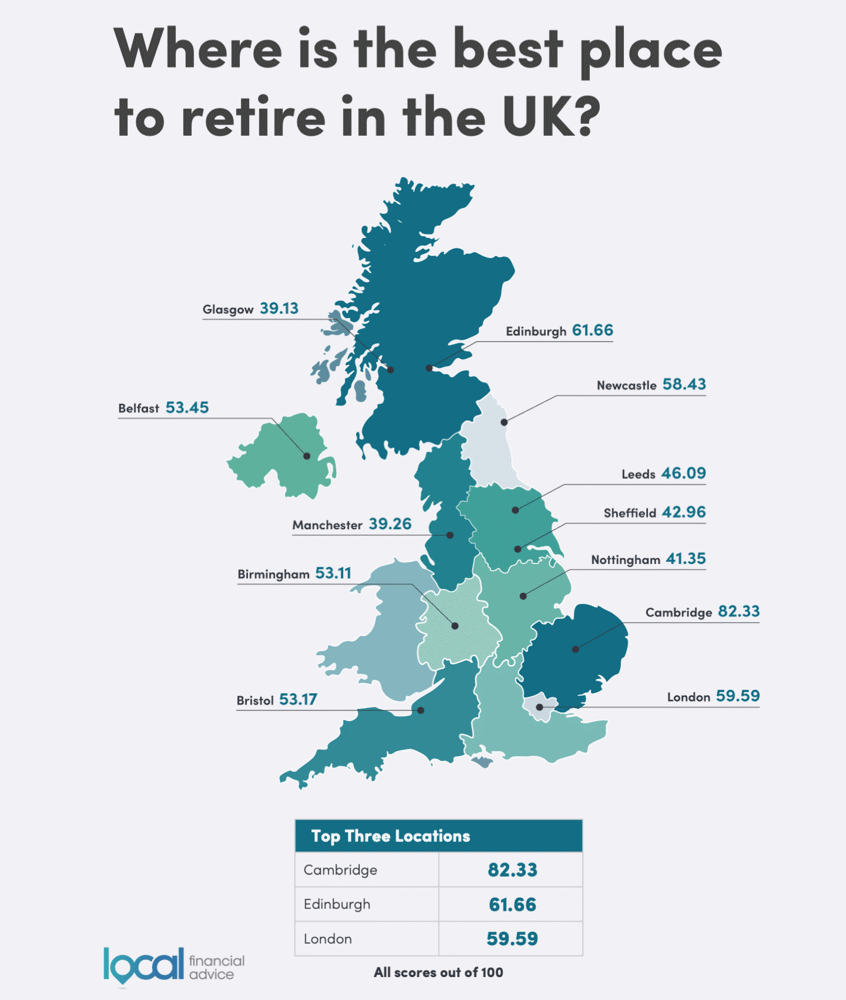 Cambridge is the best city for UK retirees.
And it's easy to see why! One of the UK's most historic areas thanks to its university colleges, Cambridge is filled with gorgeous architecture and who can resist a relaxing punt along the River Cam? It scored consistently well in our research and came out tops for life expectancy and Crime Index. Looks like retirees in Cambridge can enjoy some well-earned peace and quiet.
Best city for pension fund size
The people of Edinburgh have got everyone else beat when it comes to saving for retirement. The average pension fund size for residents in the Scottish capital is over £139,000, beating out London by close to £10,000. That's what happens when you work in a capital city and don't have to shell out for an Oyster card just to get around.
Best city for the cost of living
When it comes to making your money go far, Newcastle is the place to be. While the North has always been home to cheaper areas compared to their southern cousins, Newcastle is affordable for everyone from first-time buyers, new families, and retirees. It's one of the UK's largest cities, but you won't be spending like it.
Best city for hospitals
London can't be held from the top spot forever and came out best when we researched the best hospitals in the UK. Naturally, medical support and treatment are essential when you plan your retirement years so don't sell the capital short when you consider settling down somewhere new.
You can see the full table of results below: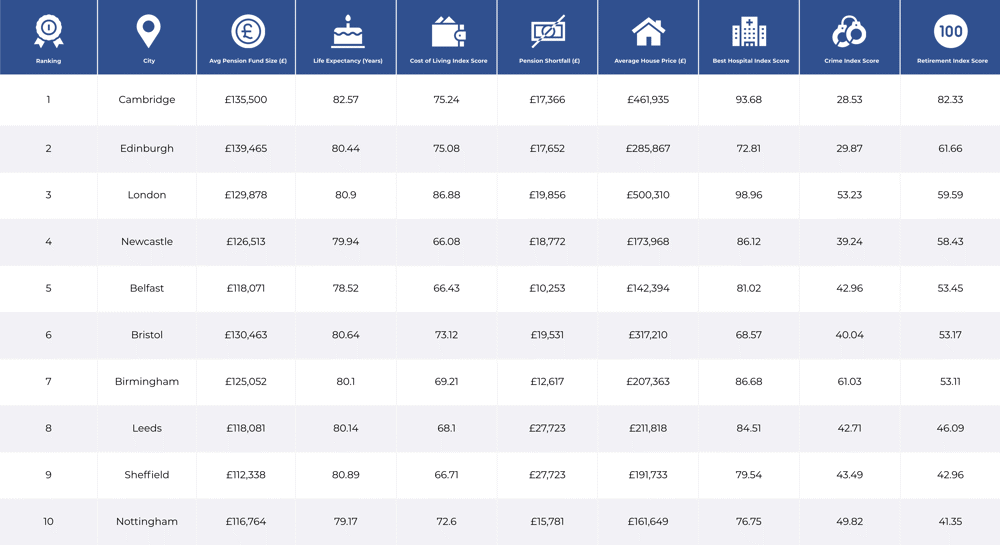 Sources
Average pension fund size: Gathered from Local Financial Advice customer data
Methodology
The index was calculated by normalising the data categories for each city and then producing an average score.
Using this approach:
Cities that ranked higher for the positive attributes average pension fund size, life expectancy, average house price and Best Hospital Index score would be weighted closer to 100.
Cities that ranked higher for the negative attributes cost of living, expected pension shortfall, and Crime Index score would be weighted closer to 0.